The Importance of Solid Foundation Pads Before Building Your Home.
Huntsville, United States - May 31, 2023 / J Whit Construction /
When it comes to setting the stage for reliable construction, JWHIT Construction, LLC, a preeminent land services company based in Texas, brings attention to the indispensable aspects of "foundation pads" and site preparation in both residential and commercial buildings.
The Role of Site Preparation in Building Secure Residential Foundation Pads
From the lens of JWHIT Construction, LLC, site preparation is the linchpin for executing fruitful construction projects. This pivotal stage includes clearing land, grading, and the key step of setting up foundation pads. To elucidate, "residential foundation pads" constitute the primary layer of a home's foundation, typically constructed from compacted soil or concrete.
Understanding the Purpose and Merits of Site Preparation
Undertaking proper site preparation is instrumental in establishing a sturdy platform for construction, thereby laying a well-planned foundation for all future building endeavors. The myriad benefits include mitigating the risk of foundational flaws, and drainage complications, and minimizing potential maintenance costs.
Jared Whitaker, the owner of JWHIT Construction, LLC, highlights the value of careful site preparation, stating, "It's much more than moving dirt around. It's about analyzing the soil type, considering the landscape's topography, and ensuring proper drainage. These steps, when performed right, pave the way for long-lasting, secure residential foundation pads."
JWHIT Construction, LLC: A Foundation Pad Contractor Par Excellence
As a venerated foundation pad contractor, JWHIT Construction, LLC is grounded in the belief that the foundation's strength determines a building's robustness. Their seasoned professionals strive tirelessly to ensure every project meets and exceeds the stringent industry norms.
Their enlightening blog post, "Before Home Foundations: The Need for Good Foundation Pads," is a treasure trove of insights into the importance of meticulous site preparation and adept installation of foundation pads. This initiative underscores the company's commitment to spreading awareness about the construction industry's best practices among its clients and stakeholders.
Residential Foundation Pads: The Lifeline of Long-standing Structures
The blog post expounds on the critical function of foundation pads in residential construction. Expertly installed foundation pads not only promise structural solidity but also deter grave issues such as foundation settling and cracking.
JWHIT Construction, LLC: The Benchmark of Foundation Pad Contractors
With a wealth of experience as a foundation pad contractor, JWHIT Construction, LLC seeks to equip homeowners, general contractors, real estate developers, and public works organizations with the know-how to make judicious decisions about their construction projects.
Their steadfast commitment to impeccable site preparation and the construction of superior residential foundation pads ensures the bedrock of all their projects is solid. This dedication to quality differentiates JWHIT Construction, LLC as a frontrunner in the Texas construction landscape.
To learn more about the Significance of Foundation Pads and Site Preparation in Successful Construction, read the JWHIT Construction's blog post here.
About JWHIT Construction, LLC
JWHIT Construction, LLC is a top-tier land services company headquartered in Texas, providing a broad spectrum of site and land work services to property owners, general contractors, real estate developers, and public works organizations. Their mastery and steadfast commitment to quality have cemented their reputation as trusted partner in all facets of construction and land development.
When needing a residential or commercial land development company for an important project, trust the work ethic of JWhit Construction for any large or small land development plans – call (832) 230-2710 right away!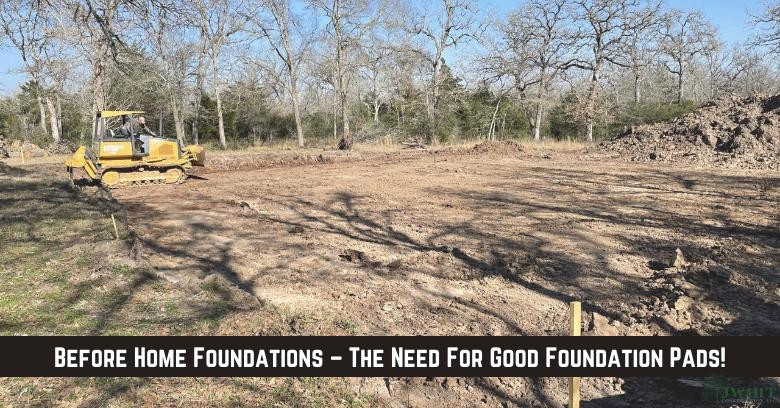 Contact Information:
J Whit Construction
143 FM 1791, Huntsville, TX 77340, United States
Huntsville, TX 77340
United States
Jared Whitaker
https://www.jwhitconstruction.com/

Original Source: https://www.jwhitconstruction.com/blog/2023/04/24/before-home-foundations-the-need-for-good-foundation-pads/